AMC's 'Anne Rice's Interview with the Vampire' is a gothic horror television series based on author Anne Rice's seminal 1976 novel of the same name. Rolin Jones created the drama series that follows Louis de Pointe du Lac, a vampire turned human who tells Daniel Molloy his story.
In the premiere episode, titled 'In Throes of Increasing Wonder…' Louis recounts his experiences as a Black man in 1910s New Orleans, especially those with the mysterious and sinister Lestat de Lioncourt. Naturally, viewers must have plenty of questions about Louis' past and relationship with Lestat. In that case, here is everything you need to know about the ending of 'Interview with the Vampire' episode 1! SPOILERS BEFORE!
Interview with the Vampire Episode 1: Recap
The series premiere episode, titled 'In Throes of Increasing Wonder…,' opens with journalist Daniel Molloy entering the final stages of his journalism career and publishing a book about his experiences in the profession. Louis de Pointe du Lac sends him a letter inviting the journalist to his house. We discover that Louis is actually a vampire after their meeting. Molly has omitted his story from her memoir, which he is very upset about. Molloy gives practical reasons for Molly's exclusion and demands that Louis give him a detailed and unfiltered account of his life, particularly after he turned into a vampire. Louis agrees to the title interview.
The story shifts to 1910s New Orleans as Louis describes life after his father's death. Being the eldest son of an African American household with several business ventures, Louis was forced to take over his father's responsibilities. He manages a brothel and provides for his brother Paul. Paul aspires, along with Grace, to become a priest. Louis doesn't feel fulfilled in his life but he keeps a strong facade because many livelihoods depend on him.
One day, a French businessman Lestat de Lioncourt notices Louis in the streets of New Orleans and is enamored by the man's beauty and personality. Soon, Lestat introduces Loius to himself and the two men begin to talk about their lives under the pretext to find investment opportunities in New Orleans. Louis discovers that Lestat is a master at mucking about with his head and listening to his thoughts. Lestat, however, continues to downplay the situation. Eventually, Lestat uses one of Louis' brothel workers to trigger a steamy hook-up between them. After the incident, Louis realizes the otherworldly nature of Lestat's powers and decides to maintain a distance between the two. Louis is forced to confront his feelings for Lestat by a tragic incident.
Interview With The Vampire Episode 2: Why Does Louis Take the Bite?
Louis feels trapped after he cut ties with Lestat. However, he looks forward to Grace's wedding and concentrates on expanding his business. During Grace's marriage, the de Pointe du Lac family has a great time, and Louis dances with his brother, sister, and friends. Paul and Louis climb up on the roof of their house to see the sunrise after the reception. The brothers, who are of opposing ideologies have a heart to heart conversation on the roof. They seem to have resolved their problems. Louis is shocked when Paul leaps off the roof to commit suicide. His brother's death leaves Louis in a dark place, and he starts introspecting about his life.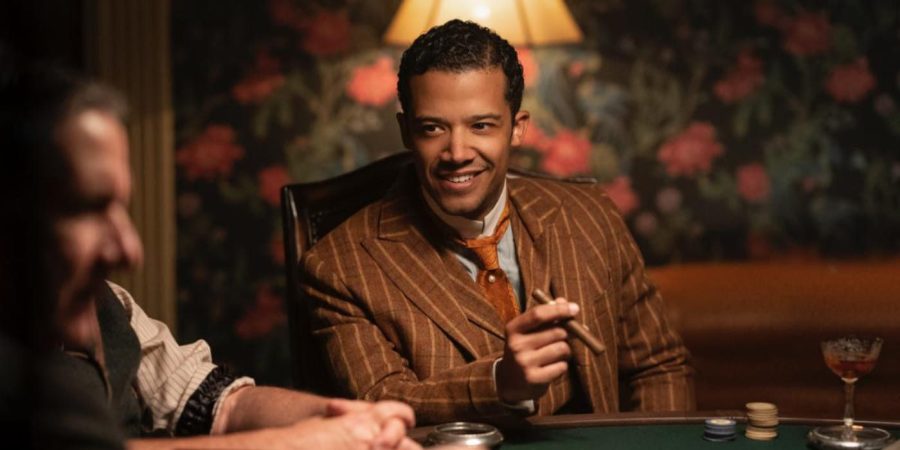 Louis' mother blames Louis for Paul's death, and Louis is himself overcome with guilt as he could stop his brother from jumping off the roof. Louis then confesses his sins to the church. During Louis' confession, it becomes evident that his tough exterior is merely a facade, and his soul is crushing under the tremendous expectations and responsibilities. Loius is revealed for the first-time as a hollow shell. Even worse, he is unable to take his own life.
Louis makes his confession and realizes that the priest has died. Lestat then takes the blood from the man. Louis attempts to flee, but Lestat brutally murders other church patrons. Lestat finally confesses to Louis that his companion is him and seduces Louis to take the bite. Louis compares the sweetness of death to the taste of the bite. Louis agrees to take the bite. Louis, however, is unwittingly trapped in the misery and eternal life of being a Lestat member.
Continue reading: The Best Vampire Shows On Netflix
Hi Mera Name Sonia Hai Aur Mujhe News Dekhna Bahoot Acha Lgta Hai. Aur Mein Iss Blog Mein Sabhi Important Update Dalti Hu.